News & Blog
The best electric skateboard under 500-Possway T2.
by Evan Sean on Mar 29, 2021
Electric skateboards are becoming so popular that it's possible they will be a mainstream market soon, rather than a niche. As a beginner, you may be looking for an entry-level electric skateboard as your first board. Most people choose electric skateboards under 500 when they come to the esk8 world.
So, what's the best electric skateboard under 500? Before you ask this question, I assume you have made up your mind to buy an electric skateboard. You want an electric skateboard that worth your money, and of course under $500. You came to the right person, I will recommend the best electric skateboard for you under your budget which is definitely worth your money.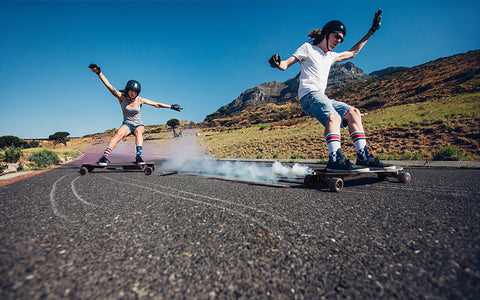 Referring to electric skateboards under $500, I'll list the current boards among main budget board brands, like Meepo, Backfire, WowGo, Ownboard, Lycaon, Possway.
Electric Skateboards Under $500
Comparison
Model
POSSWAY T2
BACKFIRE G2 BLACK
WOWGO 3
Ownboard W1S
Lycaon GR
MEEPO V3
Board Dimension
945mm*235mm*140mm
970mm*230mm
965mm*230mm*140mm
38"
940mm*230mm*106mm
38″ Long I 9″ Wide I 32.5″ Wheelbase
Board Material
5-layer Canadian maple and 2-layer fiberglass
Canadian maple
Bamboo+Fiber Glass Deck
2-Layers Bamboo + 6-Layers Maple
8 ply Canadian maple
7 layers of true Canadian maple
Max Speed
26mph / 42kmph
24mph / 38kph
39km/h
25mph (40 km/h)
24 mph/38 kph
28 mph/ 45 kph
Max Climbing Grade
30% grade
Unknown
25-30%
25% ~ 30%
Up to 30%
Up to 30%
Range
21 miles / 34Km
11-12.5miles
12-14 miles (19-22.5 km)
9.5-12 miles (15~18.5 km)
15-20 miles (24-30 km)
11 miles (18 km)
Weight
17.5lbs / 8Kg
16.5lbs / 7.5kg
17.2lbs/7.8kg
17.2lbs/7.8 kg
18.9 lbs / 8.6 kg
16 lbs / 7.2 kg
Max load
330lbs / 150kg
120Kg/265lbs
330lbs / 150kg
265lbs/120 kg
220 lbs / 100 kg
330lbs / 150kg
Wheels
83mm*56mm, 85 resilience,SHR82A
83A SHRAA 96mm
90*62mm,78A
90*54 mm 85A
90*54mm SHR83A
90 mm X 60 mm 78A
Rated Power
480W*2
400w*2
Unknown
250W*2
480W*2
2 X 540 Watts
Motor
Hub Motors
Hub Motors
Hub Motors
Hub Motors
Hub Motors
Hub Motors
Battery Capacity
280Wh
187wh
Unknown
Unknown
270Wh
144Wh
IP Rating
IP54
Unknown
Unknown
Unknown
IP54
Unknown
Battery Type
10S3P 18650 Li-ion Battery, 36V 7.8Ah
42V, 5.2Ah
10S2P
18650, 10S2P, 42V, 4.0Ah
18650 cells in 10S3P 36V 7.5Ah
Unknown
Grip Tape
3mm Shock Absorbing
None
None
None
None
None
Warranty
180 days
180 days
180 days
180 days
240 days
180 days
Possway T2-The best electric skateboard under 500
Fast with good range, the Possway T2 is great and powerful for all riders. It's equipped with smart ESC software, which ensures smooth acceleration and braking. The board offers 4 different speed modes with a 21-mile range. This budget board can hit a top speed of 26 miles per hour! The total uphill grade it can handle is 30%. It also has four brake modes, B1 and B2 are smooth, B3 and B4 are stronger. One of the reasons that we recommend the Possway T2 is because it completely understands the balance of speed and range. It's got one of the fastest top speeds on the market and a decent range.
It featured a "push to start" feature, which is a great feature that you may see only on a high-end board, this feature saves you from having to bend over to turn on the board when you want to ride it. It has 90mm 85A wheels and 45° 7'' trucks which are actually awesome. Carving works pretty well. Another plus is the 3mm shock-absorbing grip tape. It does do a great job of weakening the natural vibrations from the road.
At only 17.5 pounds (8kg), this board is easy to carry, the deck is made out of Canadian Maple and fiberglass which is capable of handling a 300-pound ride load.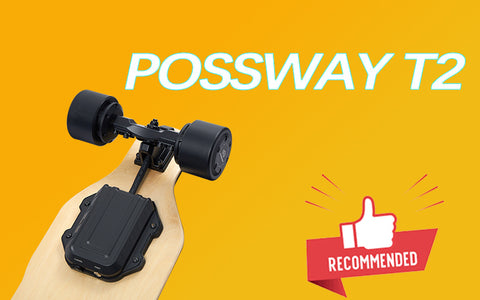 It isn't the cheapest electric skateboard out there, but you're getting a lot of power, and they also continue to upgrade their features without raising their prices beyond the budget range. At this price range, I can't find another board that performs so well. I highly recommend Possway T2 as the best electric skateboard under 500.