Possway Lynx Belt Motor Off-road E-skateboard
Regular price
$779.00 USD
Sale price
$779.00 USD
Regular price
$999.00 USD
Tax included.
Guarantee safe & secure checkout
POSSWAY LYNX Electric Skateboard Reviews
More Power for Adrenaline Seekers
Extended range, higher speed, smoother ride, and greater hill-climbing capabilities. Possway Lynx is a budget-friendly board that lets you ride almost anywhere at ease without range anxiety.
Longer Journey, Farther Adventures
Possway Lynx uses the upgraded 12P2S 21700 Samsung 40T battery pack that can take you up to 26mi / 42km on a single charge. Moreover, with replaceable batteries, the range of Possway Lynx is unlimited. Confident ride all day long.
Powerful Belt Drive System
Powered by the 2700W dual belt motor, Possway Lynx can reach as fast as 32mph / 51kmh and has incredible acceleration without sacrificing stability and comfort, taking your ride to the next level. The continental belts are excellent quality and more wear-resistant than any other brand.
Pause Mode
In addition to the 4 speed modes, our newest version of ESC features a Pause mode. After 4 seconds of no riding, Possway Lynx will automatically enter the Pause mode that keeps your board locked, providing extra safety.
Light Your Way
The 40-Lumen Shredlight SL-R1 light kit ensures you remain visible from over 2km away. Keep your night fun and safe. Possway Lynx is also compatible with 105mm Starry Wheels that bring more fun to your night ride.
Extra Wheels Included
Two types of wheels that are easy to switch are available for different purposes. The 95mm wheels are lightweight and compact, while the 105mm shock-absorbing wheels are suitable for various terrains and provide a more comfortable ride.
BEST ELECTRIC SKATEBOARD IN 2022
More Functions
Works Perfectly! +Discount code
I recently purchased this skateboard, and I must say that I am thoroughly impressed with its performance. The board is lightweight, yet durable, and the motor is powerful enough to handle even steep inclines with ease.
The skateboard's remote control is intuitive and easy to use, with a responsive throttle and brake that allow for precise control of speed and stopping. The board's deck is also well-designed, with a comfortable and secure grip that provides a smooth and stable ride.
One of the standout features of this electric skateboard is its long battery life, which allows for extended riding time without needing to recharge. The board also has a fast charging time, so you can get back to riding quickly if you do need to recharge.
Overall, I would highly recommend this electric skateboard to anyone looking for a reliable and high-performing ride. And if you're interested in purchasing one for yourself, make sure to use the discount code "SKATE" for a great deal!
I hope this review helps, and happy riding!
Nice
board received but currently not possible to drive here in Denmark, only wet roads at the moment, maybe a little worried about how low the board's clearance is.
Awesome
Just rode on the board once but it was great! As a belt drive skateboard, it has less noise than I expected but is still very powerful. It moves like a beast if you are confident enough.
Board looks great! It can go pretty fast while still feeling safe. I absolutely love it! The 105mm wheels are good addition, though I haven't tried it yet as the 90mm wheels are enough for me now.
Received the board three days ago and can't wait to ride it around town. very impressed. So much fun to cruise around on.And good going uphill. Sturdy and the power level is excellent.
Amazing
Amazing skateboard! Need more a more ranged skateboard so I give it a try. Everything is smooth! Smooth acceleration, smooth brake, it's just perfect.
Love it!
I was hesitant to spend so much money on this board, but when compared to other boards, the Lynx performs better.
I ride it to school every day and I'm impressed with its acceleration and braking stability.
Yes, you can invest in lynx.
Fast and Comfortable
I love that even at really high speeds, I still fell stable and comfortable. The combination between the dropdown deck, trucks and wheels give me the confidence to ride without worrying about the possibility of falling off. It's great for both commuting to work/school or riding the concrete wave on weekends. I do recommend.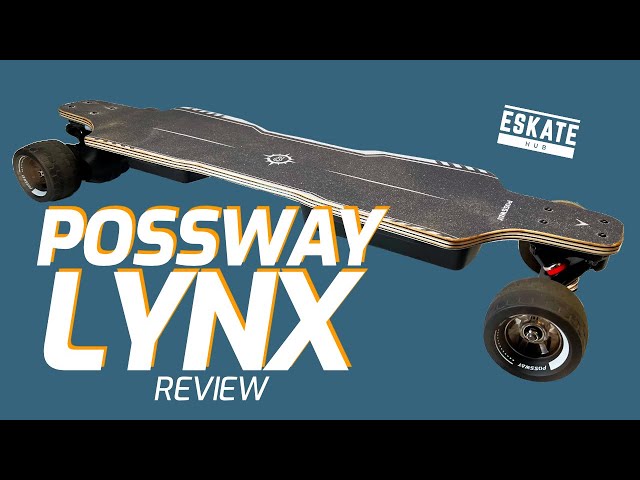 Perfect boad for me
I have been riding this board for 2 days now, and there has been no problem so far. It's working really well, providing an incredibly smooth ride even on rocky roads. I ride it to my class every day, which is around 10 miles from my home, so it's perfect that I don't need to charge during the day. Loving it now! Hope it can stay sturdy until I graduate.
POSSWAY Lynx
Smart LCD
wireless remote
Battery charger
adapter 2A
Back light
Skateboard Tool
User manual
Belt for Riot
Test cable
90mm Resilience Wheels
Lynx Pulley