EASY TO USE, amazing EXPERIENCES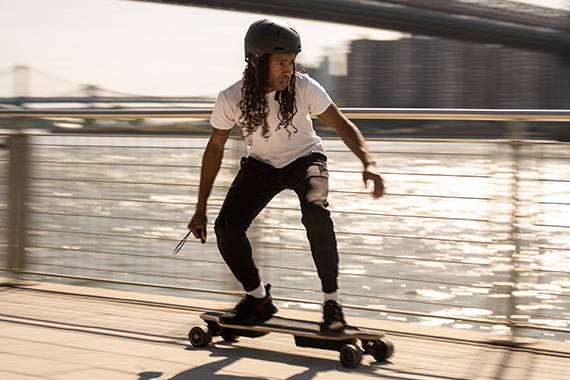 10S3P 18650 lithium battery, supports 18-21 miles with a single charge, great for daily commuting or outdoor cruising.

*Range and top speed may vary due to factors such as weight, road, slope, temperature, battery, etc. 70kg (154lb) rider test data, the maximum speed is 47.3km/h (29.4mph), and the mileage is 32km (20mi) at an average speed of 20.1km/h (12.4mph).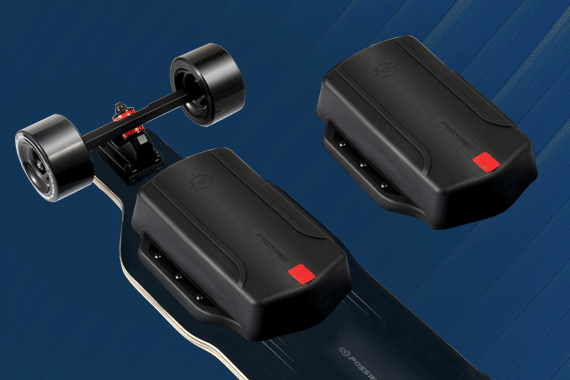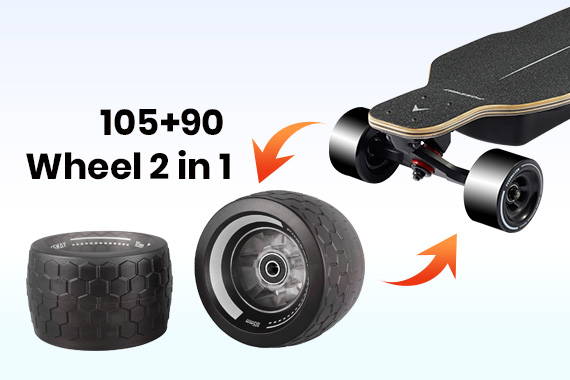 Compatible with 105mm wheels
Possway T2 is compatible with 105mm shock-absorbing wheels, easy to switch wheels and you'll get an excellent riding experience!
Powerful and Stable Hub Motor
Newly upgraded II-generation, powerful 1000W brushless hub motors, provides sufficient power for the skateboard. Intelligent structure keeps the motor stable, easy to maintain.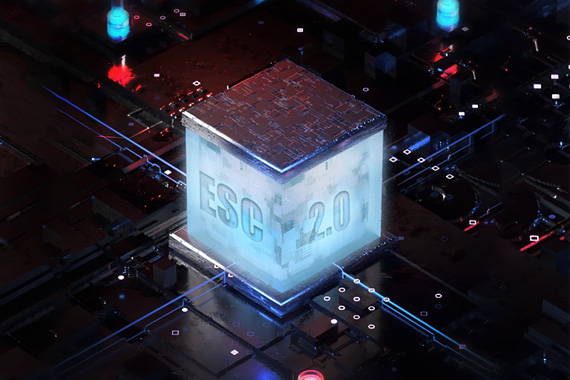 PEST ESC 2.0, with a precise and smooth acceleration controlling system, makes your riding more comfortable. A beginner can acquire basic skills within 5 minutes.
best electric skateboard in 2022
Equipped with an energy recovery system, the system will convert part of the kinetic energy into electricity for reuse when braking.

With POSSWAY 5A charger, it can achieve 1.5 hours charging and riding 30-35km (18-21miles).

Ride the skateboard to the specified speed, and turn on the cruise control mode through the remote control.

Detachable Tires, Support DIY Upgrade

Support replacement of shock-absorbing tires.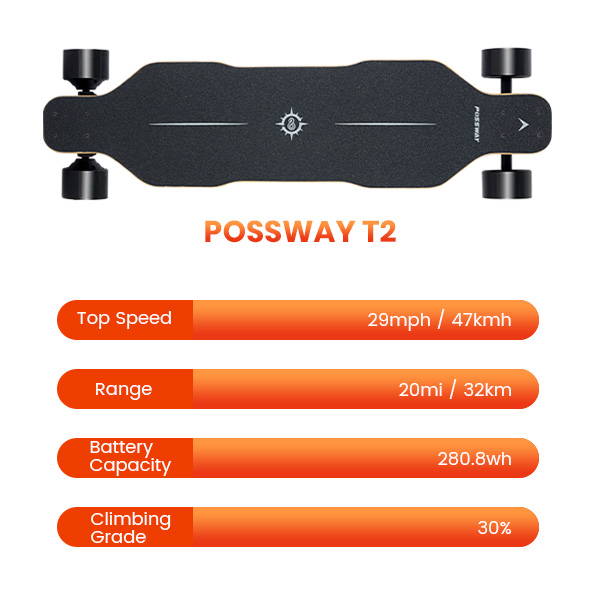 Good shopping experience
The best budget board, the support team is very responsive and helpful. They keep me updated throughout the whole process. Thank you!
Worth the price
Awesome worth it buy it you won't be disappointed,
Worth every penny. Thank you Possway, I will recommend you til the day I die
Smooth ride
t's awesome - longer battery life than I expected and a smooth ride. You can ride it as a normal longboard too if you want.
Good!
I purchased it for my boyfriend and he loved it! Powerful and smooth, I will buy another one for myself next month!
T2 got piles of power up
I ordered T2 last year, recently fond out they have upgraded T2, I got one again, crazy, T2 is very powerful up the hills, small wheels awsome!
Fast shipping, love it!
Shipped from the California warehouse and got it within a week! lOVE IT!
Great
The board is great to ride nice and smooth
Great!
Works great, long range, fast and strong motors. Nothing to complain about.
Good board and quick. Good handling.
I'm 215, so I'm on the heavier side. The board still goes 23-25 depending on battery charge. Though the range took a significant hit, but still great for small commutes. I got about 9 on full charge and full speed in pro mode.
945*235*130mm (37.2x 9.3x 5.1 in)
1 ply bamboo and 8 ply canadian maple
30km (18mi) The range varies according to the road, slope, and rider's weight
90*54mm,85 resilience,SHR83A
Hub motor, 500W*2(High power and high torque)
280.8wh, 7.8Ah,36V,10S3P 18650 Li-ion Battery

2A (1 hour for 5 miles, 4 Hrs for 20 miles)
5A (1.5Hrs)
POSSWAY T2 Electric Skateboard Reviews
We offer 6 months (180 days) warranty on parts from the date when you receive the board. We also provide a 90-day warranty for the parts you purchased separately on our website. If a defect arises during the Warranty Period, Company will:
Send the new parts to replace the defect parts. Most of the parts are fairly easy to be replaced with our design with our YouTube video instructions.
This warranty excludes normal depletion of consumable parts (grip tape, wheels & bears) unless due to a defect in materials or workmanship, and damage resulting from abuse, accident, modifications, unauthorized repairs, neglect, abuse, water damage, or other causes that are not defects in materials and workmanship.
Local Shipping ( UPS / FEDEX )
US: 3-7 days

Standard Shipping
(by sea / by train / by truck)
Canada Arrivals 30-45 Business Days
UK Arrivals 35-50 Business Days
European Arrivals 55-65 Business Days
Fast Shipping (by air)
US: Arrivals 7-12 Business Days
Europe, Canada / Arrivals 15-20 Business Days
Asian countries / Arrives 7-15 Bussiness Days