News & Blog
Why College Student Needs An Electric Skateboard
by theresa Wen on Dec 03, 2022
College can be one of the most formative and memorable experiences of your life.
With classes located all over campus, walking can expose you to the elements, being late, and having unwanted conversations with other students.
You'll have to think about finding a better mode of transportation for your college life.
We are here to provide you with a unique and enjoyable way to get around campus: an electric skateboard.
Why choose the electric skateboard for commuting on campus
1.Environmentally Friendly
Electric skateboards are powered by an electric battery, which means they belong to environmentally friendly vehicles that do not pollute the environment.
2.Don't Need a Lot of Maintenance
Electric skateboards usually don't need maintenance. Just make sure that all the parts are firmly attached and you're ready.
3. Relatively affordable
You won't have to bug mom and dad to pay for insurance or maintenance. You'll just need to pay for the extra electricity to charge the battery and that will be a matter of cents, not hundreds of dollars.
4. No Need for Gas
Electric skateboard is the type of vehicle that you just need to recharge and you are ready to go.
5. Simply fun
imagine whizzing past all your friends you'll be the talk of the town!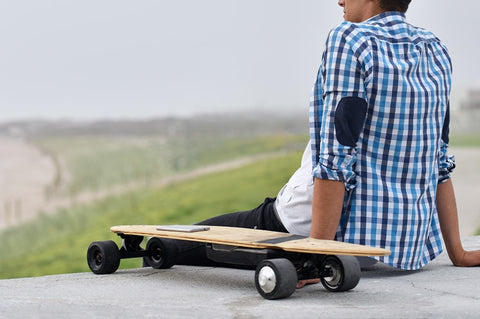 Things you need to consider before buying an electric skateboard
1. Price
Without a doubt, price is the most important consideration for college students when purchasing an electric longboard. Universities aren't cheap, so the last thing students need is additional costs.
2. Portability
Because you're going to be going in and out of different classrooms a lot and the last thing you want to be is that awkward person trying to find a place to put your board.
3. Quality
If you want your electric longboard to last for your entire college duration, you'll want to make sure that it can take a heavy blow or two and can still run.
4. Customer service
Finally, university students should select a board that offers excellent customer service. Even the most expensive and high-end boards require maintenance and expert assistance from time to time. It is critical to select a board with a company that can quickly answer your questions and assist you in troubleshooting any issues that may arise.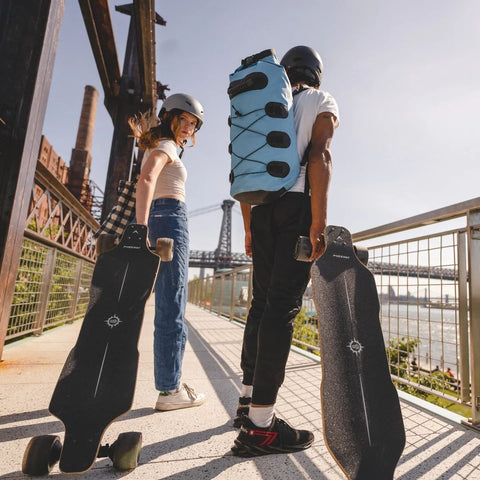 Which board you could choose
Possway V4 PRO Electric Skateboard
The 400W x 2 double hub electric motor provides high-grade power and the top speed reaches 23mph or 38kmp which suffices for young riders.
You can also switch this skateboard to cruise control depending on just how fast or slow you want it to go.
The Possway V4 Pro comes with a 100.8 Watt-hour battery pack. This is enough power to cover 13 km or 8 miles.
Furthermore, this battery has a small layout making the board portable. You can even carry the skateboard without difficulties if you tire of riding it or the battery is dead.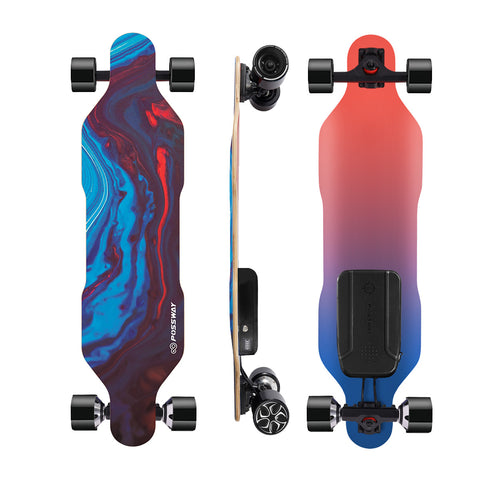 Possway T3 Electric Skateboard longboard
This electric skateboard offers a big 7.8 Ah battery and 105 mm shock-absorbing wheels, which makes the board would benefit from being able to easily navigate bumps in the road. The T3 was one of the more forgiving boards to ride in extreme weather and sloppy streets. 
The board also has dual 500W hub motors, which gives the board a top speed of 28mph (46kph), and the range up to 20 miles. As far as hub motor eboards go, that's a really high top speed. which is above average for boards under $500.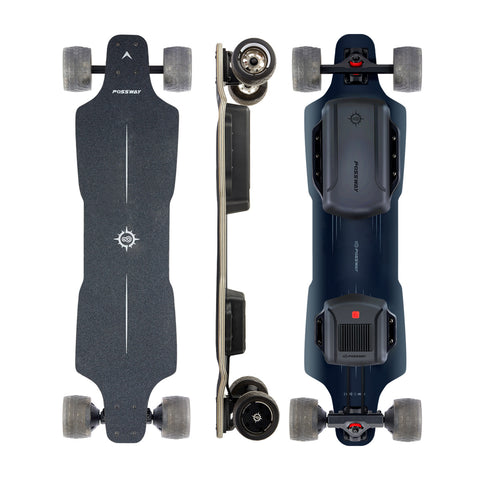 Possway Lynx Belt Motor Off-road E-skateboard
Possway lynx is the latest belt drive electric skateboard. It equips with a 12S2P 346Wh battery, which you will get up to 26miles / 42km range and a max speed of 32mph/52kph.
And the standard factory configuration of the Possway lynx is 2-in-1. you can experience 105 wheels and 90mm wheels all at once. And it comes with a pair of Shredlight free of charge, you don't need to pay extra money (this shredligh kit costs $80) The 40-Lumen Shredlight SL-R1 light kit ensures you remain visible from over 2km away. Keep your night fun and safe.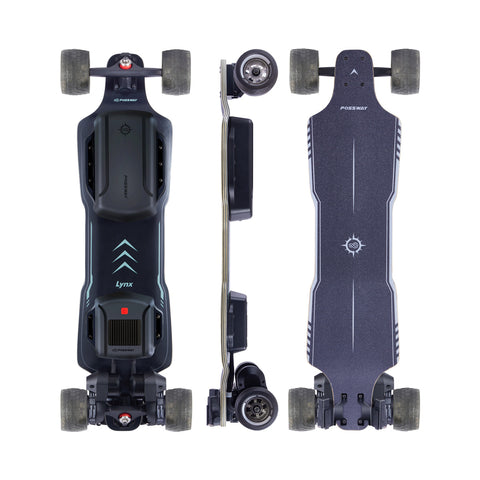 Final Thoughts
The personal mobility revolution is upon us and the campus streets are where we can get the message out. An electric skateboard to make your college life more coloful.