News & Blog
Best Electric Skateboard For Beginners Under $350
by Sarah Wu on Jun 11, 2021
Electric Skateboard growing popularity has inspired action sports enthusiasts. Not only can they be used for fun, but as a legitimate vehicle. With people using when every day as they commute to work or students getting around campus from one class to the next.
They a lot faster than a standard skateboard, but they also tend to cost a lot more. With all the different brands and designs, a beginner might be confused about what to purchase and took note of. For starters, a beginner must know the reason for the purchase. There are different styles used in different riding techniques. Once a beginner rider knows exactly what one wants, it would be easier to get the perfect Electric Skateboard. here is the best Electric Skateboard for beginners under $350.
Price:$329
Range:16KM/10 miles
Low speed:10KMH/6MPH
Medium Speed:15KMH/9MPH
MaxSpeed:25KMH/15MPH
Weight:5.7KG/12.5lbs
Board size:900*230*125mm
Max load:100KG/220 lbs
Board Material:8 Layers Maple 
Battery capacity:4000mAH
Battery Type:29.4V
Charging time:3hours
The Possway V4 electric skateboard has a large capacity of 4000mAH battery, long life span, Start your short trip! The electric skateboard can be controlled through the remote. The effective remote distance is 14m, and it takes about one hour to charge. It has three-speed modes which can be switch easily through the remote. (Low: 6MPH, Medium: 9MPH, Maximum: 15MPH) .When the board runs out of battery, it can be used as a normal skateboard. The unique three colors, it will make this electric skateboard different from other boards, and it is a perfect gift for your friends or kids, or beginner. I might even put it out there and say that it could be the best electric skateboard for beginners under $350.
Hiboy S22 Electric Skateboard 
Price: $369
Color: Black/Red
MAX weight:220 lbs. 
Product Dimensions: 36 x 5.5 x 9.4 inches ; 16.5 pounds
Batteries 20 Lithium-ion batteries are required. (included)
Motor: Dual brushless hub motors
Range: Go up to 12.5 miles long-range battery
Modes: 4 modes for each riding and braking
Speed: 18.6+mph for top speed
Longboard: 35.4 inches U shape
Hill Climbing: Climb a 20% grade hill with ease
Remote: Ergonomic and rechargeable wireless design
Wheels: Durable PU materials and replaceable for all 4 wheels
Hiboy S22 has 4 ride modes and 4 brake modes. Each ride mode or brake mode provides a careful taper when accelerating or braking. Ergonomic wireless remote to control your speed with comfort and ease.
Black Hawk Electric Street Series V3
Price: $349
Belt-free high torque hub motors
12-month warranty
Push to start feature
Canadian maple deck
LG battery pack
15mph Top speed
10 mi. range
13 lbs board weight 
Handheld Bluetooth remote
Acceleration/braking joystick
Displays battery level
High/low-speed selector
Forward/reverse selector
Small comfortable shape
The Street Series V3 advertises a 15km range before the battery goes kaput. The LG 4.4Ah 24V Lithium-Ion battery won't last as long as more expensive boards, but it also won't take as long to charge. A full charge takes roughly 3 hours from 0 to 100% and the included charger is compact enough to store in a backpack but maybe too big to carry on your person if you like to travel light.
Caroma 36" Electric Skateboard
Price:$299.99
Range:15 miles
Low speed:10MPH
Medium Speed:15MPH
MaxSpeed:20MPH
Weight:5.7KG
Board size:36 inches
Max load:300 Pounds
Board Material:8-ply Maple Deck
Battery capacity:4000mAH
Battery Type:29.4V
Charging time:3hours
This Electric Skateboard is equipped with a 350W x 2 dual motor so that the skateboard electric can accelerate up to 15.6 MPH and the ride is smooth and quiet. You can ride the cool longboard at low(6.5MPH),middle(9.5 MPH) or high(12.5 MPH) speed(Actually can reach 15.6MPH under good road conditions). And you can ride it as a regular board without electricity.
Vivi H2b Electric Skateboard
Price:$299.99
Range:15 miles
Low speed:6.2MPH
Medium Speed:9.3MPH
MaxSpeed:12.4MPH
Weight:5.7KG
Board size:35.1 inches
Max load:220 Pounds
Board Material:8-ply Maple 
Battery capacity:4000mAH
Battery Type:29.4V
Charging time:3hours
Vivi H2B electric skateboard uses high-density, non-slip, emery sandpaper, a refreshing wave pattern, and an exquisite packaging design.700W Dual Brushless Hub Motor - Vivi H2B E-Skateboard is equipped with 350W x 2 dual motors, so the skateboard can accelerate to 12.4 MPH and drive smoothly. You can ride cool longboards at low speed (6.2 MPH), medium speed (9.3 MPH), or high speed (12.4 MPH). You can also use it as a regular board when the power is off.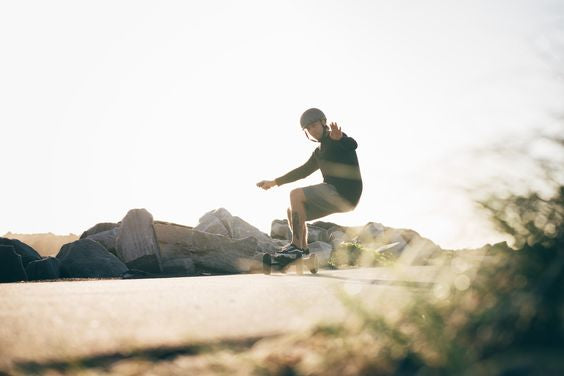 Choosing an electric skateboard has never been this easy with all the choices available in the market. You have countless varieties to choose from. Having the idea of why you want one is the best start in finding the right choice for you. Even if you are a beginner, there is nothing to be afraid of. The electric skateboard industry made sure every type of rider has their pick.
The different varieties of electric skateboards are meant for different riding styles. If you are not sure what to choose, there is always one of the above five for you, they are very suitable for beginners electric board. These styles will depend on why you want an electric skateboard: maybe for fun, commuting, or just to be handsome.