Possway T2 Electric Skateboard + 105mm wheel Bundle
Regular price
$489.00 USD
Sale price
$489.00 USD
Regular price
$728.00 USD
Tax included.
Guarantee safe & secure checkout
Possway T2 Electric Skateboard + 105mm wheel Bundle
Regular price
$489.00 USD
Sale price
$489.00 USD
Regular price
$728.00 USD
POSSWAY T2 Electric Skateboard Reviews
Super Range
10S3P 18650 lithium battery, supports 18-21 miles with a single charge, great for daily commuting or outdoor cruising.
*Range and top speed may vary due to factors such as weight, road, slope, temperature, battery, etc. 70kg (154lb) rider test data, the maximum speed is 47.3km/h (29.4mph), and the mileage is 32km (20mi) at an average speed of 20.1km/h (12.4mph).
Unlimited Riding With Spare Batteries
Integrated battery module structure, supports quick disassembly, easy, fast, and safe battery replacement. With spare battery packs, keep unlimited riding.
Compatible With 105mm Wheels
Possway T2 is compatible with 105mm shock-absorbing wheels, easy to switch wheels and you'll get an excellent riding experience!
Powerful And Stable Hub Motor
Newly upgraded II-generation, powerful 1000W brushless hub motors, provides sufficient power for the skateboard. Intelligent structure keeps the motor stable, easy to maintain.
More Precise ESC Control
PEST ESC 2.0, with a precise and smooth acceleration controlling system, makes your riding more comfortable. A beginner can acquire basic skills within 5 minutes.
BEST ELECTRIC SKATEBOARD IN 2022
More Functions
Old dog new board
I went for my first ride today I received the board about 14 days ago in the mail but have not been home to pick it up day I did the unboxing put the new tires on slap that thing on the ground and rode my very first electric skateboard and I have not stood on a skateboard for over 30 years I was a little bit worried. But you never forget how to ride a bike lol nor a skateboard I guess. Wow the construction is amazing sturdy strong and the board is really heavy. I don't know if that's a good thing for some people or a bad thing I look at the heaviness as sturdiness. I'm going to be doing a full review on my YouTube channel after I break it in a little bit or after it breaks me LOL but first impressions and first ride was smooth Snappy in the breaking was so much better than what I used to have to do in the early 1980s. I wish I could take this to the Philippines next month with me but I don't think the battery would be allowed on the plane if so it would be my number one choice for transportation while I'm on the islands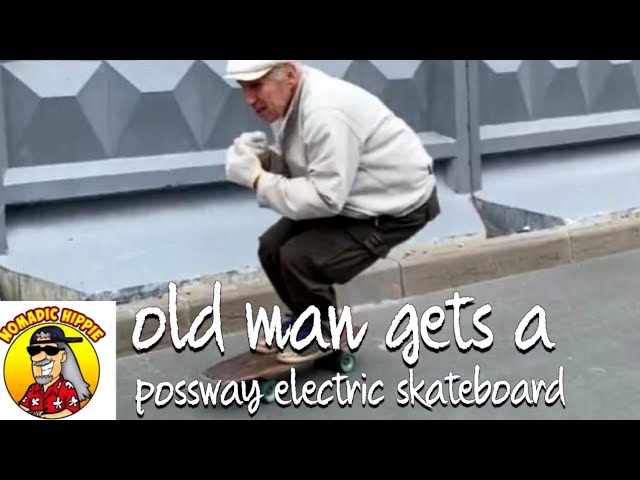 POSSWAY T2
Smart LCD
wireless remote
Battery charger
adapter 2A
Micro USB
charging cable
Skateboard T Tool
Skateboard Y Tool
User manual
Li-Ion Battery